Earlier this week Amber Thomas, Phil Barker, Martin Hawksey and I had the interesting and rewarding experience of participating in an OER booksprint. A booksprint is essentially an accelerated facilitated writing retreat, and in this case our facilitator was the endlessly patient and encouraging Adam Hyde of booksprints.net and Sourcefabric's Booktype team. Adam has previously facilitated booksprints for a diverse range of initiatives including FLOSS Manuals and Google Summer of Code.
The aim of a booksprint is to produce a book from scratch in five intensive days. That may sound challenging enough, however we only had two and a half days to produce our book and, just to add to the challenge, the Scottish Legal system conspired against us to haul Martin off to do his civic duty by citing him for jury service. Luckily Martin didn't get selected for the jury, which is just as well, as we wouldn't have been able to complete our book without him.
The task we set for our sprint was to draw together some of the significant technical outputs of the three JISC / HEA Open Educational Resources Programmes, reflect on issues that arose and identify future directions. I think its fair to say that we all approached the task with some trepidation and perhaps even a little scepticism. Could we really write a book in two and a half days? Right from the outset Adam was realistic about what we could reasonably achieve. Given our small team and the shorter then normal timescale, he suggested that a 15,000 work booklet would be an achievable goal. We rather surprised ourselves by exceeding these expectations with a final count of 21,000 words.
We used a combination of high and lo tech to facilitate the writing process, i.e. collaborative authoring software and post-it notes :}
We began with a brain storming session to identify the audience for the book, scope the content, construct the table of contents and discuss individual chapters. Although separate authors were allocated to each individual chapter, the content of each chapter was scoped by the whole group. Phil proved to be particularly adept at managing this process. As Adam explained on his blog:
To structure these (chapters) we are working on a nice big wooden table in the lounge and writing ideas onto post-it notes. Everyone can participate with contributions on what should be in the chapter, and the person taking responsibility for starting the chapter writes these ideas down on post-it notes and orders them according to the structure we created yesterday.

It's a great process and very good for getting the wide range of knowledge available on a subject into the chapter, and its easy to see how this content can fit together as a readable structure.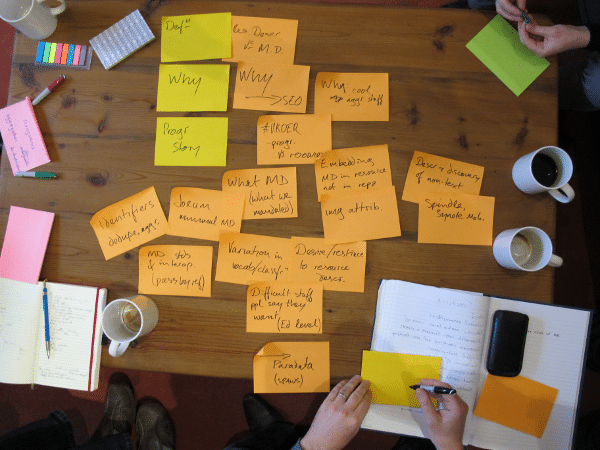 In order to structure and manage the collaborative writing process we used Booktype's booki collaborative authoring software which stood up to the task very well.
Booki also includes some interesting analytics tools that allow users to visualise the writing process.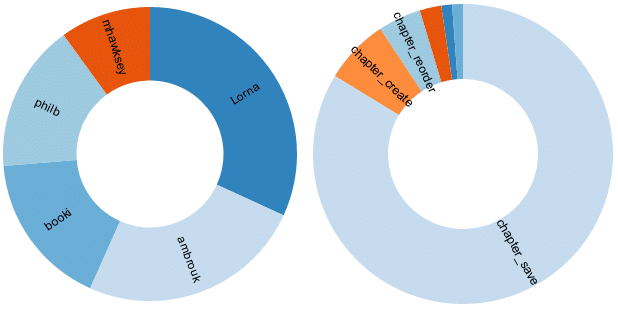 Once a chapter was completed it was passed on to another member of the group for editing, with the aim that by the end of the sprint each chapter would have been reviewed and edited twice. As we had written considerably more than we originally envisaged we were slightly pushed for time when it came to the editing stage. So we have a considerably longer book than we expected but it still needs a little polishing.
On reflection I think it's fair to say that we all found the book sprint to be a challenging, but very positive and productive experience. Phil commented that he found it interesting to "flip" our normal process of collaborating. As we all work remotely and tend to only come together and meet face to face when we are scoping and planning a piece of work. We then go back to our respective institutions to get on with our tasks, using tools such as Skype, Google docs, email and twitter to facilitate remote collaboration. This time however we did all the planning and orchestration remotely, and used the face time to do the collaborative work. It was certainly a different, and very productive, way for us to work. In fact Phil went so far as to comment that this was the closest he had ever come to an enjoyable writing experience! Adam also kept a blog of progress and reflections, which you can read here .
The next stage of the process is to tie up some loose ends and then invite other members of the OER community to comment on the text. Hopefully these commentaries will be incorporated into the books as concluding reflections. In the meantime the draft of our book is openly available here, so feel free to read and comment.